Twitter Alerts - Critical Information from @metpoliceuk
Blog post •
Mar 11, 2016

&nbsp

14:52

&nbsp

GMT
Twitter Alerts give the Metropolitan Police the ability to proactively notify Twitter followers with critical information during major incidents in London.
We consider the use of Twitter Alerts as an urgent, tactical communication that has the ability to protect and save life. In practical terms, this means informing people of an ongoing major incident; where it is, what it is and what to do about it.
Those who follow @metpoliceuk and Sign up to receive Twitter Alerts can receive a text message and notification directly to their phone whenever @metpoliceuk marks a tweet as a "Twitter Alert".
We are encouraging all Twitter users who live, work and travel in London to subscribe to Twitter Alerts from @metpoliceuk

What is a Twitter Alert?

Twitter Alerts are a subscription alert service for existing twitter followers of @metpoliceuk. Every UK Police Service and a small number of other agencies in the UK have the ability to send Twitter Alerts. The MPS worked with Twitter UK to launch the service in 2013.

Notifications are delivered via SMS Text Message, and if you use the Twitter App on a smartphone you'll also receive a proactive, highlighted push notification. You can read more about the functionality on this Twitter Blog.
When will a Twitter Alert be used?
We have set an extremely high threshold for the use of Twitter Alerts. It is likely to be the first thing the Metropolitan Police says about a very serious situation and as such it will be a practical, informative message aimed at those in the impacted area of a critical incident.
The Metropolitan Police have yet to activate a Twitter Alert, but when we do, it will be a significant indicator of how seriously we are treating something.
Who should sign up?
We recommend anyone who works, lives or travels in London to sign up to the service. If you already follow @metpoliceuk on Twitter it's simple to activate.
We particularly encourage the security industry and those responsible for building security to sign up, to enable effective implementation of emergency procedures in buildings, commercial premises or transport hubs.


How do I set up Twitter Alerts?

Go to the Twitter Alerts setup page for @metpoliceuk - www.twitter.com/metpoliceuk/alerts

Sign in with your Twitter account; if you don't already have an account, you will be prompted to sign up for one.
If you wish to receive Alerts via text messages, enter or confirm your current phone number and activate Twitter text messaging to start receiving Alerts as text messages.
Further details are available on the Twitter Alerts support page
What does a Twitter Alert look like?
A Twitter Alert can be received as a text message or push notification. Within the Twitter App, the Twitter Alert will be a highlighted tweet, and appear at the top of your 'Home' feed.
The following examples are from @SenateSAA in response to an 'active shooter' situation.
Example: Twitter Alert via SMS Text message and smartphone notification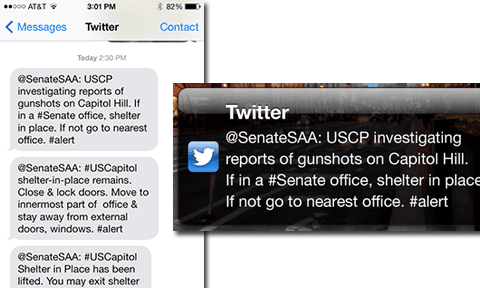 Example: Twitter Alert within Twitter

Do I need a smartphone to receive Twitter Alerts?
No - as you can be notified by SMS Text Message - but you must have a Twitter account, follow @metpoliceuk and activate Twitter Alerts.
Does this replace established emergency protocols between Police and Businesses?
No - this is in addition to, and quite probably, quicker than the formal procedures. It does not replace any existing protocols which should still be followed.
What if I am not from, or visit London?
Twitter Alerts are available for all UK Police Forces, other emergency services and selected agencies. Find your local force on Twitter and follow the same sign-up instructions.
What if I am not on Twitter - how will I find out?
We anticipate any Twitter Alert sent by @metpoliceuk will receive wider coverage than purely on the Twitter platform. For example, major media organisations are following @metpoliceuk and we would anticipate widespread media coverage as a Twitter Alert will be related to a major incident in London. We encourage subscribers to share the messages widely, beyond Twitter.